Our interactions with customers are more problem-solving than product-selling. It's an approach to furniture that can be challenging, built on shared understanding and hard-earned trust. But it's also one that's also incredibly rewarding. If a culture of problem-solvers sounds like the place for you, then you may want to explore career opportunities at Geiger.
'It Feels Like Family'
At Geiger, our people do more than power our manufacturing, engineering, sales, and other teams. They also empower each other. Ask any team member across our two manufacturing locations—our corporate headquarters and casegoods plant in Atlanta, Georgia, and our state-of-the-art seating plant in Hildebran, North Carolina—as well as our showroom locations from New York to San Francisco. They're likely to tell you that they may have come to Geiger for the opportunity, but they stay at Geiger because of the people. It feels like family.
Part of the Herman Miller Group
That family-feel is important to us, but Geiger is also able to offer big company benefits thanks to our relationship with Herman Miller. We were acquired by Herman Miller in 1999. Today, as part of the Herman Miller Group, Geiger shares the same cultural values—contributing to strong communities, celebrating inclusiveness and diversity, promoting health and wellness, and working toward our Earthright environmental goals—as Herman Miller, a nationally recognized leader in the areas of family benefits, work-life balance, occupational safety, and corporate equality.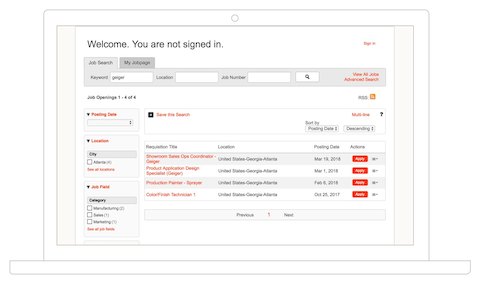 Apply Online
Browse open positions and apply online using the Herman Miller job search portal.