At Geiger, why we do things and how we do them are inexorably one. We start with the highest quality materials, then shape and finish them with precision and care to elevate their aesthetic appeal. But beauty for its own sake isn't enough. Geiger products must also solve problems for our customers.
Geiger designs play an important role in creating environments where people want to be—spaces that stimulate creative and analytical thinking, strengthen organizational culture, and communicate trust to clients and visitors. Geiger products elevate the experiences of the people who use them, from the private office to the open plan, and from the boardroom to the home office.
Our focus on craft is rooted in commitments to quality, reliability, and integrity first established in 1964 by our founder, master cabinetmaker John Geiger. The company, then known as Interiors International Ltd., was based in Toronto, Ontario. Our early years saw large-scale growth, and by 1980, we needed additional manufacturing capacity. So we built a new factory and relocated to Atlanta, Georgia. It was also around this time that we became known as Geiger International, Inc.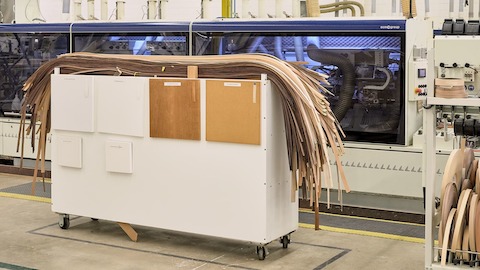 Over the next decade, Geiger entered a design partnership with Ward Bennett. At the time—and as it remains today—Bennett's name was synonymous with timelessness and opulent minimalism, and his interiors defined the pinnacle of corporate design in his era. His 1990 collection of 20 chair and table designs for Geiger received international attention.
Geiger's 1993 acquisition of Brickel Associates, for whom Ward Bennett served as the sole designer from 1964 on, gave Geiger access to an even deeper cache of Bennett designs, many of which have since been reissued.
In 1999, Geiger joined Herman Miller, a company whose human-centered approach to workplace design naturally aligns with the strengths of Geiger products—furniture that brings warmth and humanity to the experience of work.
Today, inspired by our founder, Geiger remains passionate about woodworking and exquisitely crafted furniture. Following the example of Ward Bennett, the designers with whom we work continue to seek beauty and timelessness in design. And thanks to our affiliation with Herman Miller Group, our sharper-than-ever focus on the needs of customers is matched by a level of service that's higher than ever.