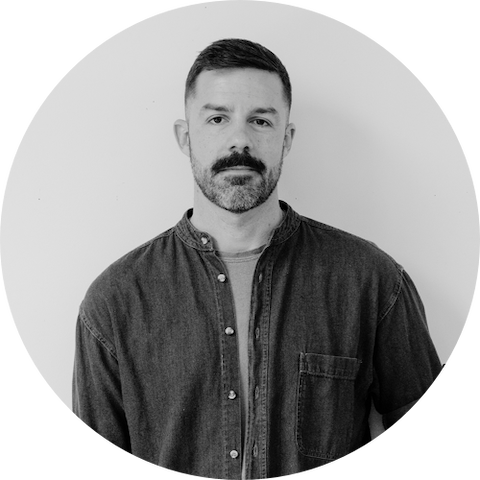 Our Designers
Joseph White
Joseph White is a weaver—both literally and metaphorically. A self-taught hand weaver, his textile designs begin on the loom in his Brooklyn studio, where his interests in traditional quilting patterns, the psychology of color, and other disparate ideas come together to create textiles of unique character. In his day job as Director of Workplace Strategy for Herman Miller, Geiger's parent company, White weaves together very different raw materials—namely, Herman Miller's point of view on work, the process of placemaking, and a rich understanding of human dynamics—to help workplaces function better for the people who work there.
White earned a bachelor of science in Interior Design from the University of Tennessee, where his studies opened up explorations into nonverbal communication, color theory, and the interactions between human beings and their environments. From this academic core, he built a professional vita around one fundamental belief—that everything is connected. His inquisitive approach and meticulous manner pushed his design work beyond aesthetics, allowing him to create spaces that make a meaningful cognitive and emotional impact.
"With textiles, you can create some of the natural play of light, pattern, and movement that helps a space engage your brain."
-Joseph White
After a number of years living and working as a certified interior designer in New York City, White moved to San Francisco where he joined Rapt Studio. There, he moved into a design strategy role, eventually rising to the rank of Director of Strategy for the firm. He left for an opportunity at Herman Miller in 2015 and returned to NYC shortly thereafter.
White can't help but draw parallels between his design strategy work and his craft. "My job with Herman Miller is to deconstruct the experience of work into component parts, to learn as much about them as possible, then put them back together again in hopes of achieving better results," he said. "It's essentially weaving with ideas instead of yarn."
As he approached the design of the Taconic Collection, his first collaboration with Geiger Textiles, White remained keenly aware of the eventual application in contract interiors of the patterns and textures he was creating. "I seek to create textiles for feeling over fashion, to engage the senses, and shift perception across time and space," he said. "Interiors are highly unnatural environments. With textiles, you can create some of the natural play of light, pattern, and movement that helps a space engage your brain." The collection is a celebration of his view of textile design as a reflection of nature—and an exciting glimpse of what's to come from this thoughtful designer.