A cozy outdoor seat for two
The Crosshatch Outdoor Settee brings Geiger to the garden. Redesigned with new materials, it's joined by the chair and ottoman, coffee table, and side table in Geiger's first-ever outdoor furniture collection. The settee features distinctive cording, graceful curves, and intricate teak craftsmanship in a seat for two designed for any residential, workplace, or hospitality open-air space.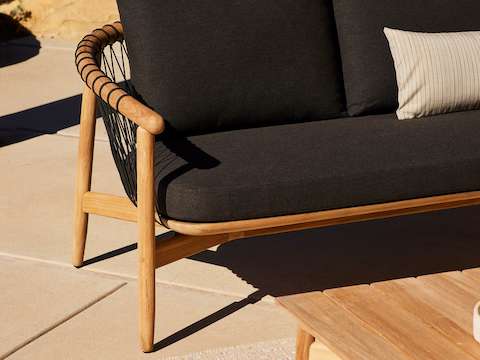 Borrowed from Industry
Like its indoor predecessor, the Crosshatch Outdoor Settee features a lattice of hand-strung parachute cords—a material common to other industries but not typically used in furniture— held taut to support the gracefully curved teak frame.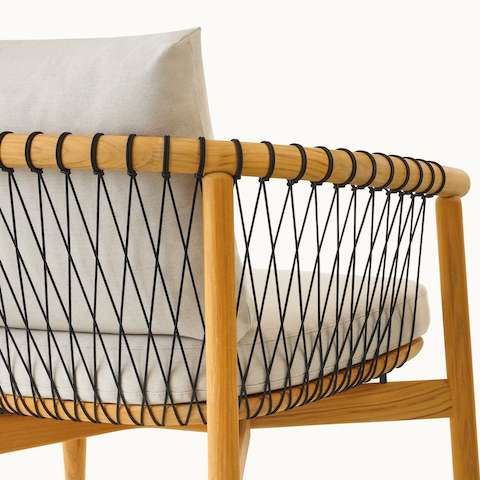 An Airy Aesthetic
The lightweight look of the settee lets it easily find a home across residential, workplace, and hospitality settings. Paired with the coffee or side table, the collection creates a welcoming place to gather outdoors.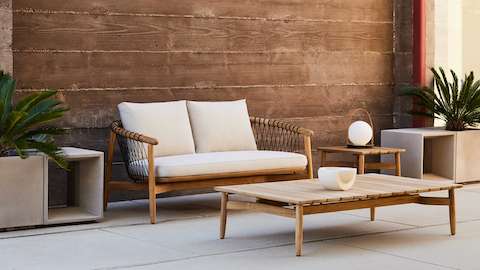 Ready for the Elements
Each piece in Geiger's inaugural outdoor collection is intricately crafted with durable teak. The settee's cushions, which can be tied down, are outfitted in a weather-resistant fabric available in two colorways.
Design legend Ward Bennett's pioneering use of industrial materials inspired the designers of EOOS in their material selection for the Crosshatch indoor and out pieces. The designers' use of parachute cords—a common industrial material—would have earned Bennett's approval.